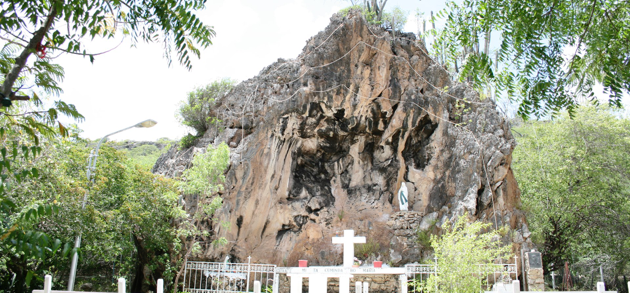 1958 was the 100th anniversary of the parathion of the Virgin Mary to Bernadette Soubirious in Lourdes, France. World-wide many devout Catholics made a pilgrammage to France to celebrate this event including a school teacher from Rincon, Mrs. Emma Pourier. When Emma returned to Bonaire she asked Father Berlage if a grotto could be established in Rincon like the one in Lourdes. The perfect cave was found south of Rincon by the priest. The landowner was proud to donate the property for such a divine purpose. The Grotto was completed and blessed on December 11th, 1958.

It is a great place to sit and refect on your life…. whatever your beliefs are.

Next to the entrance of Gruta Lourdes is a path and a stairway that leads to a lookout with a magnificent view over Rincon. It is a steep climb but it is worth it.

The Gruta Lourdes you will find at the end of the Kaya Lourdes. On this road you will also find Pos Rincon, a major water well for the residents of Rincon.